Mineral makeups have become very popular in the last 5 years, because they feel so lightweight, and can offer good coverage. They are often touted as natural, but you should still read the fine print and remember that they are not all created equal.
For 6 tips on how to choose a mineral makeup, read this post.
Here are some mineral makeups I've tried: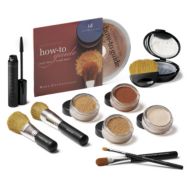 Bare Escentuals This is the brand that is probably the most well known, and the first one I tried.
Pros: I loved switching from liquid foundation to powder, and liked that I could get a set with foundation, bronzer, and brushes. It is convenient that this brand is available at places like Sephora, Ulta and Nordstom, and nice that there is an instruction DVD included.
Cons: If you are allergic to animals or have very sensitive skin, these brushes are not for you. The mineral veil has parabens, and the foundation has bismuth oxychloride which tends to look shiny by the end of the day (and build up in the brush). The powder is fine enough to give good coverage, but I've found an even better one.
Honeybee Gardens
I haven't tried their foundation, but their eyeshadow was a disappointment. Too much glitter and not enough color, even in a dark shade. (Love their mascara, though!)
Me Me Cosmetics This is a local company that I found at my Farmer's Market. . . they had just introduced mineral makeup, and I went for it. You're not likely to come across them, but I thought you might benefit from my experience.
Cons: the powder was not nearly fine enough, so the coverage was not good. And the color wasn't the best match. I realized that great mineral powder isn't going to be made by someone selling at a farmers market.
Aubrey Organics
Since this seems to be such a "pure" brand, I was hopeful when they came out with a powder foundation. But it was a disaster.
Cons: The powder isn't actually minerals, it's like fine silk powder. . . feels not quite as fine as the mineral powder, and doesn't stay on all day. Also, it can not be wetted like the minerals can to create a concealer; it balls up and is really gross when wet. Also, it is colored with cinnamon powder, so you have to get used to smelling like cinnamon and the color options are limited.
alima Pure I found this makeup online, and visited a local shop which sells it to test colors. I've also ordered eyeshadow from their website.
Pros: I love this makeup! It is the finest powder I've found, so it looks great and covers well. They have 60 colors to choose from, including very fair shades. Although the jar has less in it that Bare Escentuals mineral makeup, it has lasted me longer.
They are straight minerals; full disclosure and no bad ingredients. The eyeshadows are just right: glimer without glitter, if you know what I mean. They have perks, like credits for returning jars, and a facebook page with contests and sales.
Cons: since they have few stores which carry their line, most women will have to order online, which is not an easy way to choose a foundation. However, they have samples for $1.50, so trying before you invest isn't too hard. With as happy as I am with this makeup, I'd say it's worth it.